Ireland travel technology survey 2016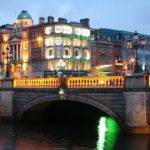 . As a follow-on from our Dublin Globe list of the 60+ companies doing travel tech in Ireland, Kevin O'Shaughnessy and I wrote a short history and review of the current state of our sector in Ireland.
We included the DNA behind some of the companies, the Aer Lingus / ASTRAL / GPA / RyanAir story (short version), current facilities for startups and in-bound investors, and some thoughts on why the Irish have this attraction to travel technology and airlines.
"In the first six months of this year Dublin airport handled 13 million passengers, even though Ireland only has a population of 4.5 million. As a nation, we love to fly."
Published today in TNooz.