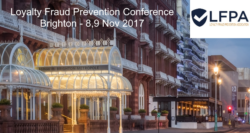 I'm very happy to be speaking at the upcoming Loyalty Fraud Prevention conference. I'm not a fraud expert, but I do understand loyalty (travel programs in particular) and customer journey, so my presentations will explore whether customer journey can be used as a form of threat modelling.
"What you Need to Know About the Fraudster's Customer Journey: Understand them & you better protect your program"
Customer experience and the customer journey is normally about empathy with the user, but this will be a bit different – trying to empathise with and understand with the fraudster!
The agenda is packed with speakers from fraud, security and loyalty backgrounds, including representatives of Europol, Turkish Airlines, Wyndham Hotel Group, HSBC, Virgin Atlantic, Cebu Pacific, The UK National Cyber Security Centre, VISA, ICLP, Forgenix, Jolly Consulting, Company Evolution and of course the Loyalty Fraud Prevention Association itself.
See http://www.loyaltyfraudevent.org/ for more details and to book tickets.