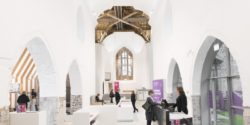 I'm delighted to be speaking at and supporting the upcoming #TechThursdayKK event in the Medieval Mile Museum in Kilkenny on Thursday evening.
I'll be providing a brief overview of Ireland's travel industry which includes some of my own research and TechIreland data (also available on the Travel Tech Snapshot published last week).
Speakers already lined up include:
Tickets are FREE but you must register, I expect it to sell out very quickly.