Aviation loyalty marketing views from Finnair, Onur Air, Brussels Airlines, Jet Airways, Caribbean Airlines and Heathrow Airport and many more…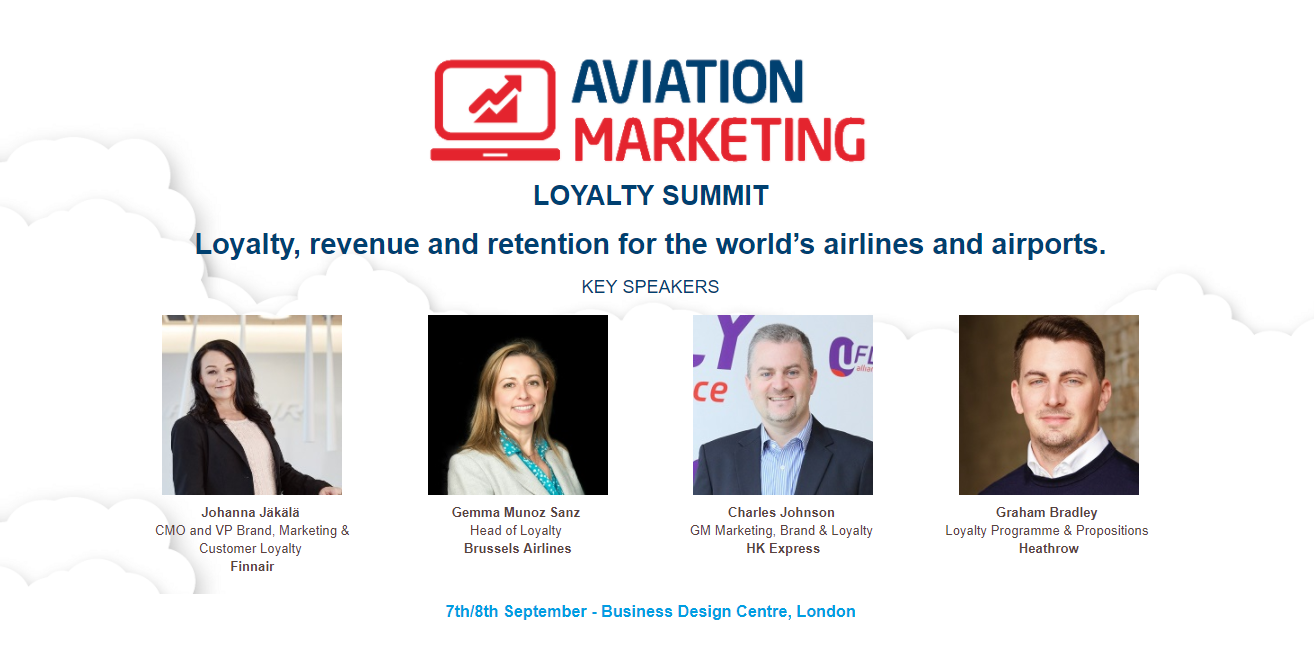 I'm delighted and honoured to be chairing the Marketing & Loyalty track in the Global Aviation Festival on 7th and 8th of September in Business Design Centre, London. I recommend attending the festival, even with the Free Expo Pass, however, if you want to see the speakers you need to buy a Conference Pass.
The Loyalty & Marketing track has seven airline and airport management speakers and four other industry and solution experts. Here's the list of speakers, although this may change in the next three weeks, you can check the full conference schedule (here).
UPDATE: 24/AUG/17 – One agenda change below.
Creating a holistic travel ecosystem approach to loyalty at Finnair
Johanna Jäkälä (@johannajakala), VP of Brand Marketing and Customer Loyalty, Finnair
What's the Point? The Great Loyalty Debate
Peter Gerstle, Group Head of Travel Products, Collinson Group
Creating a loyalty program which is commercially viable for the LCC business model
Charles Johnson, General Manager Marketing, Brand & Loyalty, HK Express / reward-U
Airport Loyalty: using digital innovation, partnerships and personalisation to increase engagement
Graham Bradley, Loyalty Program & Propositions, Heathrow Airport
Make every customer journey take off: first party data in action
Tomas Salfischberger, CEO, Relay42
Loyalty on the frontline: How to manage increased customer expectations by empowering your staff to help drive loyalty for your airline – Rossen Dimitrov, Head of Guest Experience from Westjet
Focusing on the under-appreciated segment: the infrequent traveller
Gemma Muñoz Sanz, Loyalty Manager, Brussels Airlines
Building loyalty with personalised interactions in Onur Extra
Orhan Sivrikaya, CCO & Executive Board Member, Onur Air
Managing a shift in loyalty in Aviation: New incentives, rewards and the role of gamification & marketing
Manish Dureja (@ManishDureja), Managing Director, JetPrivilege (Jet Airways)
How can airlines make money from airport retail sales?
Tim Branton, Business Development Director, iCoupon Global Limited
How is Caribbean airlines using digital communication and loyalty to build the connection to the brand?
Alicia Cabrera, Senior Marketing Manager, Caribbean Airlines
Let me know if you are going to the event and would like to meet up.